Dynamic Email Marketing Campaigns Generate Sales
Any good marketing plan should incorporate email marketing. Being able to directly deliver content to a prospect's inbox can have a lot of advantages when done correctly. There are a few reasons you want to deploy an email marketing campaign.
Keeping In Touch With Past Customers
Every business owner should have an email list of people that have purchased from them in the past.
Who better to market to than people with whom you have already done business? By building an email list of past customers, you can share updates about your business, share new products or services, and stay top of mind when they are ready to buy again.
Having an open line of communication should be one of your top priorities. Plus, there is plenty of evidence that getting someone to purchase from you again is easier than trying to find new customers (Cost of Acquisition). Marketing to someone and getting them to purchase from you again also raises the Lifetime Value of your list.
Marketing to interested prospects
So you have made a connection and collected an email, now what?
Provide value! By compartmentalizing your list into specific segments, you can offer your potential customers something of value. Email is a great way to do this. Giving value is the best way to establish yourself and your brand as an authority in your field of expertise.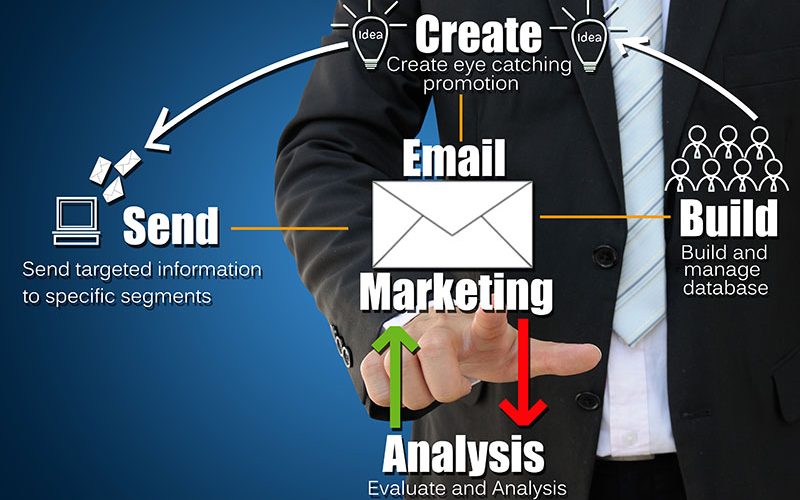 Drip Email or Marketing Automation
Drip email marketing can be a powerful tool. If a user signs up, they receive a prescribed series of emails over a prescribed course of time. The difference between that and marketing automation sequences are that in marketing automation, you can see their path through the emails based on actions that they take. Send an email with a link in it? Did they click on it? If so, then send them the next email. If not, then send them a different email. That is where you start to see real power. This is the wave of the future for email marketing because it allows you to personalize the campaign to the interests of the end user.
E3 Consulting Services uses world-class systems like MailChimp, AutoPilot, and Drip for email automation. Drip is probably the most powerful.
Looking to put together a drip email campaign or a marketing automation sequence? We can formulate a great email strategy for your business. Each email you send should have a purpose. Never send just to send. Nobody likes junk mail.